The first part of june has been a little bit chaotic. But, I'm getting things done and here's how I want the rest of the month to go...
∞ Postcards June is going to be a postcard month! I sent out happy postcards, all through the first week of june. This weekend, I'm getting my "May postcard" organized. (I know, it's june!) (never mind!)
It would be -nice- if the june postcards go out the door in -june-! And, I'm taking on some letter writing projects. And! Swap-bot seems to be going well, I've signed up for a second project there!
∞ Garden oh the stupid garden. *lemon face* I keep saying I'm going to Pretend to be a Real Gardener this year. yeah, right? when? Any time now! Seriously!
*deep breath* Peas are growing, cherry tomato plants have survived the transplant, cabbage is good, nasturtium seems okay, and we'll have strawberries. Everything else died or never lived. And we have tamed just a tiny portion of our plot. So, I must do something!
∞ Photography I carry my camera everywhere. But do I ever get it out to take pictures?! No! *rolls eyes* Even when I see something, "oh, that would make a good picture," I just walk right on past. What is wrong with me?!
You know what I'm thinking about doing? I usually carry my camera case in my backpack, along with my lunch... it's rather a tight fit. And it takes several minutes to get to my camera: open backpack, maneuver past insulated lunch bag, pull out camera case, open case and pull out camera. How about if I leave the case at home, throw the camera into the top portion of my backpack?
The camera is a couple years old, and no longer precious. And I need to be able to whip it out. (but without it hanging on my neck all the time!) Surviving naked in my backpack might be tough, but I think that's what we need to do!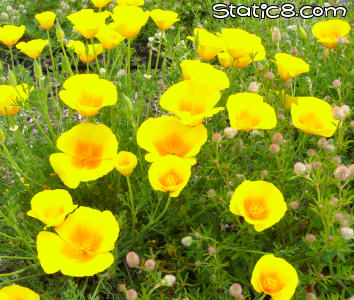 photo of poppies while Significant Other gets our take-out!