sat 7 dec 2013... update
Last weekend I was getting a head start on Amnesty International's Write for Rights.
I wrote letters of protest and notecards of solidarity for 7½ of the ten cases! The letter writing campaign goes through to the 17th of December, and I think I'll have time to finish up the rest before then.
I hope you'll join me in writing letters! Amnesty USA provides sample letters that you can just print up and sign, stick it in an envelope and send it on it's way... and you've made a difference in the world!
Write for Rights, Scotland 2012: How Letters Change the World
---
This week, I decided to keep going with my drawing project. I won't be able to continue the "daily" part for much longer, since I get distracted with family stuff at the end of december. But until that moment arrives, I am going to go where the inspiration takes me...
I wanted to give the Peaceful Prairie turkey some colour...
And then I had to search for some pics that interested me. I found a spoonbill and a dolphin:
And then, moving some of my piles around, I rediscovered my Charley Harper book. He is one of my favorite artists. I thought copic markers would lend themselves wonderfully to the flat colours that Harper uses!
Yeah! Oh my gosh! I had so much fun doing these!!
sun 1 dec 2013... drawings
For the last week of my daily drawing project I drew a goat, and then several different turkeys...
Here is a drawing of Daphne, who is on the cover of the fall/winter Farm Sanctuary newsletter:
This is an unnamed turkey, who is on the cover of the nov/dec Audubon magazine:
And this is a drawing I did from one of my own photos I took at Peaceful Prairie Sanctuary, an awesome vegan sanctuary that I ♥love♥: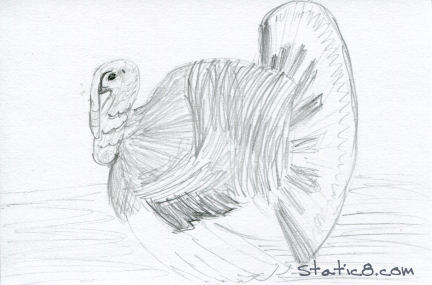 I love turkeys! They are such lovely creatures. Plus they have the most beautiful eyes. I wish I could look into their eyes for a long time. That sounds funny, doesn't it. But trust me... find a really good, close up photo of a turkey's face and you will see their eyes are amazing! (and please don't base your judgement on my crappy drawings!!)
Also, I love birds in general because they are so accessible... and turkeys are the biggest bird I'm going to see in the urban wild. Yep, there's a small group of turkeys who live in a forest park a few miles from my home. They occasionally travel! I've seen them stopping traffic on my street and I've seen them wander thru the front yard.
How cool is that?!
sat 30 nov 2013... 3 Piles of Projects
The pile on the left is the art pile.
My project for november is Art Everyday. The pile includes the magazines I have drawn from, the photos I've printed up, different kinds of paper (that I've not actually used), my 4x6 index cards along with my trusty mechanical pencil and white vinyl eraser.
The pile on the right is the Amnesty International letters.
This is my project for this long weekend. So far I have written letters of protest and notecards of support for 6 of the 10 cases!
The pile includes all the letters, since I decided not to mail them until the Write for Rights campaign "officially" begins on 2 december. Also in the pile are my stamps: the round global forever stamps and the US stamps are the Modern Art forever stamps (I bought a bajillion sheets of these, because I love art, and now I so tired of them!) (ha).
And my little set of Hallmark cards, there in the middle... I usually make my own notecards, but I am glad I decided to use up some of my "bought" stash. When you're writing so many letters in a single weekend, it's good to make things as easy as possible! Making my own: I have to choose a design, print it, cut and fold it, and then dig out an envelope for it. These bought notecards have a design of leaves on a teal background. They are beautiful, gender non-specific, and small so I don't feel like I have to write too much! Easy.
The pile at the top of the pic is my journal binding project.
This year I've been journalling on loose leaf paper... not just writing by hand, but also printing up some digital journal pages. It really works well for me, except I don't take the time to bind up the papers very often.
Which is fine. It's nice to get a little perspective -- aka let months pass -- before looking through journal pages.
thurs 28 nov 2013... Happy Long Weekend
My project for this weekend is to write letters for Amnesty International. I've joined Write for Rights. I have been participating in this campaign since 2011 and this is my third year!
The great thing about Write for Rights is that they provide sample letters. It's so easy to participate! Just print up the sample letter, sign it and put it in an envelope!
In addition to sending letters of protest, you can also send letters of solidarity.
There are 10 cases highlighted this year... and my goal for this long weekend is to write letters for ALL of them!!
sat 23 nov 2013... Squirrel Week!
I printed up one of my photos of a pine squirrel on Monday and spent the rest of the week drawing him! He is just so cute!
Unfortunately, when doing my drawings in copics, I discovered I don't have the right colours. Orange is my least favorite colour, and also I don't have any pale colours... and I need a pale orange for this project!
I tried twice, and then went for something completely different!!
haha!
I was annoyed that I had so much trouble with his fingers. Hands are hard to draw!
I also got to do some experiments with alcohol ink painting. Here's an example of some real art with a cute baby sea turtle: Painting with Copic Various Ink. And another one by Lin Frye, who contributes regularly to the exclusive Sketching in Nature blog.
sat 16 nov 2013... and feathery
A scrub jay, today.
I had taken a few photos of this scrub jay in september, and wished I could have turned one of them into a postcard. Unfortunately, they were all blurry... the day was cloudy and the jay only sat for mere seconds. arg.
But even blurry photos are useful!
I printed up the best of the blurry pics and got out my field guide and attempted a drawing.
And then I took some pics of my work area...
This is my usual set up. The end of my bed is where I do my computing (thus the keyboard and track ball!). I draw on my lap desk, my photo refs in front of me, and all my copic sketch markers.
sat 16 nov 2013... furry animals
I worked in pencil, and pencil + copics, on a few furry animals this week. But my beginner's luck is over and I had to crumple up a lot of ugly index cards! ha. oh well, I kept trying until I could almost recognize the critters I was drawing!
I drew Lucy and Ethel several days in a row... at first attempting some live sketches. Much frustration and crumpling ensued. Then I printed out their photo and drew from that.
I think I might have to practice for years instead of just one month a year.
I need to remind myself that my drawing "goal" is not photo realism. I have a camera for photos!!
My goal here is along the lines of my paper journal... to record the things important to me. To have fun. To remember.
Drawing is a skill that, with practice, can be improved. And I am here to practice!
sun 10 nov 2013... weekend roundup
I think it's decided. Drawing furry animals is difficult!
Good thing I still have 20 days to practice!
I am also playing catch up with my postcard and mailing projects. I love sending mail! My ongoing goal is to send a monthly postcard to the two mailing groups I belong to, and a few friends and family. The mailing list is currently between 60 and 70 postcards.
But then I pick up random Swap-Bot projects that look fun. And then I want to send something special to someone. And then there are a few replies to be made... yeah: there's a pile.
This weekend, I cleared out the Swap-Bot projects. And I wrote a couple replies. And I really organized that pile, so that I can pick up the top project and get going with it quickly and easily!
Also worked on an Amnesty International case.
When I read I Am Malala, I was reminded that my Amnesty International work was important. Having recently finished E.O. Wilson's Biophilia (the fire ant!), I was reminded again...
He writes about the terrible changes that come to Surinam, in South America, after a dictator comes into power in 1980. Wilson was concerned about the human rights violations as well as the environmental destruction. He mentions Amnesty International's Urgent Action cases in the footnotes.
As a member of the Urgent Action Network, I must continue my activism! It is so important!
I've signed up for the USA Write for Rights, which happens in December. But the UK Write for Rights is already under way!
sat 9 nov 2013... catching up
... With my daily drawings...
I love how this one turned out! I drew it directly with copics, from a photo of the coreopsis flowers that I grew in our community garden plot this year. I did the black outline last, with a brush tip multiliner.
This drawing came from the same garden photo, an aster plant was growing behind the coreopsis. I experimented with my set of Inktense pencils. I think this is the first time I've used them in a drawing. Inktense is water activated... so you put your drawing down with the pencils and then you hit them with a water brush. Sounds simple enough, doesn't it? Except I suck pretty bad with paint brushes.
But I tried it out! Only the flower has a very careful wash over it, although I did swipe the background with my water brush as well. If I try it again, I will definitely use some actual watercolour paper... my index card warped quite a bit and I could tell the colours were going to blob all over the place if I got carried away with the water. And it might be nice to get carried away with the water, you know?! :)
I had just finished reading Biophilia by E.O. Wilson and decided to draw a fire ant in his honor. ha. I grew up with fire ants when I lived in Louisiana... I ran around outside with bare feet, as all good children should, and stepped in my fair share of fire ant hills!
I wanted to draw a rat today, in honour of the Mutts comic of friday:
"Rats need love too"!
Yes! I searched for an ancient pic of my friend Freefall, who I cared for when I was a teenager. It's a tiny pic, but it's the only one I have and I wanted to draw her and not some stranger I found on the internet!
But my drawing did not come out well. I tried again. and again. I erased a lot. And then I tried drawing with copics. And then I just traced my photo. And even that looked not-normal! humph.
So, I'm going to show you my photo, instead of my pitiful drawings!
Isn't she precious?! If the opportunity presented itself, I would jump at the chance to adopt another rat!
fri 8 nov 2013... update


So I meant to post some of my daily drawings during the week. But random projects got in the way. And sometimes craziness got in the way. And now I have to play catch up.
This is Shirley who lives at The Elephant Sanctuary, a cool place that's important to me.
Shirley turned 65 this year, and I drew her from the cover of the Summer newsletter. Her leg juts out like that because it was broken and never set. She came to the sanctuary in 1999 and she is living happily ever after.
Be sure to check out the EleCam!
More catching up tomorrow...
sat 2 nov 2013... sketches
Today I did some sketching from life...
Unfortunately, the life was moving around too much. So I'm not very happy with my drawings. I should catch them while they are sleeping!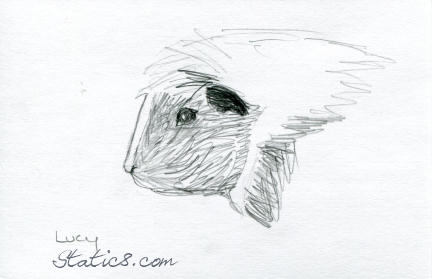 But I am happy with the fact that it's november 2nd and I already have four drawings done!
fri 1 nov 2013... start the art
My goal for November is to make art every day!
It doesn't have to be good art. And if I don't want to show it, I don't have to!
But I am going to work on a 4x6 index card or paper every day this month.
I actually did a test run on tuesday...
I drew this picture from a Dover book in pencil. Inked it with a brush tip Multiliner SP, erased the pencil then coloured the background with copic wides and sketch markers. I am happy with my fish and it took about half an hour.
Today is the first official day of the Art Month:
This is the back side of a California Poppy, inspired by a photo in the Fall edition of National Parks magazine.
No pencil work on this one, I drew straight up with my copics. This drawing was less about the actual drawing and more about the blending of the colours. I feel like I need some practice!
And practice is exactly the point of this month of art!!
sat 26 oct 2013... Amnesty International
Another important project that I've abandoned but want to get back to is Amnesty International's Urgent Action Network.
I've been an active member of the UAN since December 2011. I had written a few letters for their annual Write for Rights campaign that December and got hooked.
I had been taking on one case -- sending three or four letters of protest -- almost every weekend. In 2012, I wrote letters for 40 cases. And this year I wanted to do more!
I started out very strong, in January and February I would sometimes write two cases in a weekend! After that, my letter writing kind of fizzled, only writing once or twice in a month.
The last case I wrote for was Urgent Action #205-2013. I sent four letters to Cuba at the end of August. Nothing since then.
This week, I read I Am Malala: The Girl Who Stood Up for Education and Was Shot by the Taliban.
And I am sadly reminded of all the violence in the world. Writing for Amnesty International was my form of peace activism. Why have I stopped? Why in the world have I quit?
So far this year, I've worked on 24 UAN cases... I am not sure I'll be able to match the 40 cases I completed in 2012. But I'm going to try!
fri 25 oct 2013... plans
I've been a terrible blogger! I kept thinking I would type about something brilliantly spectacular and then I could come back to the Internet with style. haha: Problem is, every time something spectacularly brilliant actually does happen, I procrastinate writing about it. I think the writing needs to be perfect. And then it starts sounding like a lot of work. And who wants their hobby to be work??
So, I'm just going to type about day-to-day stuff. Maybe eventually I'll get to the brilliant and spectacular stuff. But right now, I'm just going to update.
November is National Novel Writing Month. I don't have a novel in me, but in that spirit, I'm doing Art Every Day Month.
My plan is to draw or colour a 4x6 index card every day. But I need to do some prep: gather some magazines with some good animal photos I can draw, print up some of my own pictures to draw, and make a list of stuff I can do when I am not feeling inspired, or when I don't have a lot of time!
And before november rolls around, I have some other projects that I need to get back to. Will be typing about them soon...
sat 28 sept 2013... Banned Books Week!
I spent a couple hours this morning writing about banned books on a ton of postcards for my GoodReads group! Yay, I love it when I can combine my favorite things to do!!
Postcards, writing, reading and talking about books... not to mention the photography I'm sharing on the front of the postcards.

Today is the last day of Banned Books Week and I'm celebrating by talking about the challenged books I've read.
From the Challenged Classics list:
5. The Color Purple, by Alice Walker
7. Beloved, by Toni Morrison
9. 1984, by George Orwell
16. Brave New World, by Aldous Huxley
17. Animal Farm, by George Orwell
33. The Call of the Wild, by Jack London
40. The Lord of the Rings, by J.R.R. Tolkien
45. The Jungle, by Upton Sinclair
57. Sophie's Choice, by William Styron
And from the 2000-2009 list:
4. And Tango Makes Three, by Justin Richardson/Peter Parnell
8. His Dark Materials (series), by Philip Pullman
17. The Color Purple, by Alice Walker
23. The Giver, by Lois Lowry
26. Beloved, by Toni Morrison
36. Brave New World, by Aldous Huxley
69. Fahrenheit 451, by Ray Bradbury
74. The Lovely Bones, by Alice Sebold
80. A Day No Pigs Would Die, by Robert Newton Peck
88. The Handmaid's Tale, by Margaret Atwood
90. A Wrinkle in Time, by Madeline L'Engle
And Currently reading:
10. The Perks of Being a Wallflower, by Stephen Chbosky.
And will soon read:
28. Bridge To Terabithia, by Katherine Paterson
I really enjoyed this article in our local paper, the other day: Dangerous Books can lead to enlightenment. Haha, the comments made me laugh even tho the people seem to be completely serious!! I wonder if they actually read the article!
Banned Books Week is important to me because I love to expand my mind by reading books I wouldn't ordinarily pick. The books on the Challenged Books lists are so diverse and wonderful! And even when I read one that I don't like... I still love the fact that I am able to read that book!
sat 31 aug 2013... update
Weekly Mail Check-in
This Week: 11 mailings
Total This Month: 121 mailings
Yay Snail Mail!
I'm not sure what my project for september will be. But here are some thoughts...
The goal is to write 20 blog posts about vegan food. I love the idea, and I usually skim a few VeganMoFo blogs ... But I don't enjoy kitchen-time and try to avoid cooking.
That said, I do want to support vegan ideas. So I'll be posting something!

The last week of september is Banned Books Week... I celebrate by reading a few books that have been censored!
Just glancing through, I might read: I Know Why the Caged Bird Sings, The Perks of Being a Wallflower and Bridge to Terabithia (I loved the movie!).
What books will you read?
And then there are the Additional snail mail projects!
sat 24 aug 2013... update
We almost have a sunflower...
We brought home almost 10 pounds of food from our garden plot today. Mostly zucchini, lots of cherry tomatoes, several cucumbers and six lemon cucumbers. I suppose we're averaging about 15+ pounds of food per week?
Yes, I'm kind of sick of zucchini. So I've been trying to keep up with the lemon cucumbers instead.
The bees are still very busy and soon this flower will turn into a lemon cuc. Along with dozens more!
---
Sat, 24 Aug 2013 18:03:42 PDT

Weekly Mail Check-in
This Week: 49 mailings
Total This Month: 110 mailings
I've met my goal of beating my February mail count, which was 108. And I've still got most of a week to bump up my numbers even more!
I've now completed my extra "non-month" postcard mail and I am two postcards shy of completing my June mail. Since I don't yet have a photo picked out for my July mail, I'm going to focus on some replies in the final week of August.
Yay Mail!
sun 18 aug 2013... Book Lists
In my Internet wanderings, I ran across two book lists that interested me.
∞ Locus Best All-Time Fantasy Novels
∞ Locus Best All-Time Science Fiction Novels
The lists caught my attention because I consider myself a science fiction reader, but I've read more books from the Fantasy list. And I did not enjoy several of the books that I had read from the Science Fiction list!
Here's the Fantasy List. The ones in bold are the books I've read.
1) The Lord of the Rings, J. R. R. Tolkien (1955)
2) The Hobbit, J. R. R. Tolkien (1937)
3) A Wizard of Earthsea, Ursula K. Le Guin (1968)
4) The Shadow of the Torturer, Gene Wolfe (1980)
5) The Last Unicorn, Peter S. Beagle (1968) ♥
6) The Once and Future King, T. H. White (1958)
7) Nine Princes in Amber, Roger Zelazny (1970)
8) The Chronicles of Thomas Covenant the Unbeliever, Stephen R. Donaldson (1977)
9) Dragonflight, Anne McCaffrey (1968) ♥
10) Little, Big, John Crowley (1981)
11) Alice in Wonderland, Lewis Carroll (1865)
12) The Gormenghast Trilogy, Mervyn Peake (1950)
13) The Riddlemaster of Hed, Patricia A. McKillip (1976)
14) The Incompleat Enchanter, Fletcher Pratt & L. Sprague de Camp (1941)
15) Watership Down, Richard Adams (1972)
16) The Dying Earth, Jack Vance (1950)
17) Glory Road, Robert A. Heinlein (1963)
18) A Spell for Chameleon, Piers Anthony (1977)
19) Dracula, Bram Stoker (1897)
20) The Wizard of Oz, L. Frank Baum (1900)
21) Silverlock, John Myers Myers (1949)
22) Something Wicked This Way Comes, Ray Bradbury (1962)
23*) The White Dragon, Anne McCaffrey (1978) ♥
23*) The Stand, Stephen King (1978)
25) Lord Valentine's Castle, Robert Silverberg (1980)
26) The Chronicles of Narnia, C. S. Lewis (1950)
27) The Shining, Stephen King (1977)
28) Conjure Wife, Fritz Leiber (1953)
29*) Deryni Rising, Katherine Kurtz (1970)
29*) The Worm Ouroboros, E. R. Eddison (1922)
31) Witch World, Andre Norton (1963)
32) Salem's Lot, Stephen King (1975)
33) A Wrinkle in Time, Madeleine L'Engle (1962)
And the Science Fiction list...
1) Dune, Frank Herbert (1965)
2) The Left Hand of Darkness, Ursula K. Le Guin (1969)
3) Childhood's End, Arthur C. Clarke (1953)
4) The Moon is a Harsh Mistress, Robert A. Heinlein (1966)
5) Stranger in a Strange Land, Robert A. Heinlein (1961)
6) The Foundation Trilogy, Isaac Asimov (1953)
7) A Canticle for Leibowitz, Walter M. Miller Jr (1959)
8) Gateway, Frederik Pohl (1977)
9) Ringworld, Larry Niven (1970)
10) The Stars My Destination, Alfred Bester (1956)
11) Lord of Light, Roger Zelazny (1967)
12) More Than Human, Theodore Sturgeon (1953)
13) The Mote in God's Eye, Larry Niven & Jerry Pournelle (1974)
14) The Man in the High Castle, Philip K. Dick (1962)
15) The Time Machine, H. G. Wells (1895)
16) Stand on Zanzibar, John Brunner (1968)
17) The Dispossessed, Ursula K. Le Guin (1974) ♥
18*) The Demolished Man, Alfred Bester (1953)
18*) The Forever War, Joe Haldeman (1974)
20) The Martian Chronicles, Ray Bradbury (1950)
21) Starship Troopers, Robert A. Heinlein (1959)
22) Dying Inside, Robert Silverberg (1972)
23) Dhalgren, Samuel R. Delany (1975)
24) Time Enough for Love, Robert A. Heinlein (1973)
25*) Way Station, Clifford D. Simak (1963)
25*) Rendezvous with Rama, Arthur C. Clarke (1973)
27) To Your Scattered Bodies Go, Philip Jose Farmer (1971)
28) Earth Abides, George R. Stewart (1949)
29) The Door Into Summer, Robert A. Heinlein (1957)
30) City, Clifford D. Simak (1952)
31) The Witches of Karres, James H. Schmitz (1966)
32) The City and the Stars, Arthur C. Clarke (1956)
33) The Caves of Steel, Isaac Asimov (1953)
34) 1984, George Orwell (1949)
35) Norstrilia, Cordwainer Smith (1975)
36) Mission of Gravity, Hal Clement (1954)
37) Ubik, Philip K. Dick (1969)
38*) Timescape, Gregory Benford (1980)
38*) 2001: A Space Odyssey, Arthur C. Clarke (1968)
40) Fahrenheit 451, Ray Bradbury (1953)
41) Downbelow Station, C. J. Cherryh (1981)
42) The War of the Worlds, H. G. Wells (1898)
43) Last and First Men, Olaf Stapledon (1930)
44) Double Star, Robert A. Heinlein (1956)
45) Davy, Edgar Pangborn (1964)
15 Fantasy Novels read, three of them favorites.
And 10 Science Fiction Novels read, with only one that I liked.
There are several books on the SF list that I've attempted to read but are so horribly boring I couldn't finish them. And there are several authors in the SF list that I dislike.
So: am I a fantasy reader, after all?
Hmm. On the SF list, I have read about ½ of those books within the past 10 years or so. Whereas on the Fant list, many were read when I was a kid... I've only read one or two books in the past 10 years.
I guess I'm just someone who likes to read!
Tag: august
sat 17 aug 2013... garden
Today I read that they've discovered a microorganism in dirt makes you happy. ha!
∞ How Dirt Makes Us Smart And Happy at Green Gardening with Anne Lovejoy. (Animal testing makes me sad. But I'll work it off by breathing in the garden. AND by buying cruelty-free!)
The sunflower is now too tall for me to take a pic of the top. I'm not sure what's going on up there!
And, for the first time this year, I have more lemon cucs than I can eat in one day! The tiny little pathetic lemon cucumber plant... has grown huge! Yay!
hm, looks like it's time to make some new feathers!
Well. Making feathers is probably hard work. If I were a crow, I'd probably put it off for as long as I could. The crows around me would say, "Sheesh, rift. Why don't you molt or something?!"
And I'd just shrug and say "eh."
Sat, 17 Aug 2013 15:39:01 PDT
Weekly Mail Check-in
This Week: 21 mailings
Total This Month: 61 mailings
I don't have the next postcard designed yet... but I'm going to try to have a record month! I mailed 108 things during LetterMo this year. Can I beat that??
sun 11 aug 2013... update
I now have a working printer! I got up and running on monday, and I've been printing and mailing a few things every day. Then I left work early on friday, and was able to put a LOT of stuff in the saturday morning mail!
Might need more stamps!
Lucy and Ethel. Still trying to capture the cuteness, but black faces are impossible! Maybe I should try drawing them?
This is our Grey Stripe Sunflower... Pretty sure the description is about the seeds, not about the flower! :)
The plant is probably 6.5 feet tall, and that's a bud in the center. Our other sunflower plant (the short one) was a Zubulon, and it only had one flower. I'm hoping the Grey Stripe has multiples.
I eat zucchini at every single meal. Even breakfast... zucchini with a few tater tots, quite tasty! But I can't keep up with the garden abundance. Thinking about freezing some...
Sat, 10 Aug 2013 19:25:19 PDT
Weekly Mail Check-in
This Week: 40 mailings
This may be some kind of record for me...
Hopefully, I'm just getting started!
sun 4 aug 2013... lingering with bees
Yay the baby sunflower of last weekend is now a beautiful bloom! It's also the shortest sunflower in the whole community garden... everyone else has nine-foot tall sunflowers. This one is barely two feet off the ground! I had to crouch down low to get this photo! haha! cute lil' thing!
And then I spent some time watching the happy bees buzz thru the borage. :) I saw this yellow beetle on one of the flowers... a couple bees noticed the yellow beetle and didn't land on the star flower. But then one of the bees said "Move aside, bug! I've got work to do!"
The beetle moved to the back side of the flower and the bee took sips of nectar then moved on.
This bug, by the way, is a Spotted Cucumber Beetle. He's a "pest" who eats pretty much every garden plant, as an adult. As a larva he eats the roots of corn. I don't have any corn, and I've never seen the beetle on my cucumber plants... just the coreopsis flowers, and now the borage, both of which are quite healthy. So, to me right now: he's just a colourful visitor!
But for future reference: Lacewings and ladybugs will eat the eggs of the Cuc Beetle. And some of the plants which can repel the beetle are broccoli, radish, catnip, calendula. And Nasturtiums...this is the first time I've not had nasturtiums in the garden, I must be sure to replant them next year!
sat 3 aug 2013... paper journal
My project for july was to write daily in my paper journal, and maybe do some sketching. I missed one day of journalling, towards the end, but otherwise successful and I intend to continue through august.


The sketching part didn't happen as much as I wanted. But I came up with a couple little doodles that I like.
And I made a few sketches inspired by Sara Midda's South of France: A Sketchbook. She made tiny little squares of art... a good idea: I don't have to fill the entire page, just make a one inch square and fill that!
And of course, my printer woes made for several pages of angst, plus a bunch of little squares...
sun 28 july 2013... envelopes and garden
The printer is back to being dead... or maybe it's just in a coma? But that's okay. I am trying out some different art projects while I wait for the new printer to arrive.
I supported a successful Kickstarter campaign for Kreate-A-Lope, and last weekend I got my reward: some envelope templates!
Of course, my original plan was to print some of my more abstract photos and turn them into envelopes. That plan being on hold, copic wide markers to the rescue!
(ha. the sky blue marker definitely needs to be re-inked! and the violet one soon.)
I love doodling the little bubbles, it's very relaxing.
Now... if only I could just print something to put in my envelopes!
---
Baby Sunflower!
I ate this sun gold cherry tomato right after I took this pic. It was the most tasty tomato that I've ever eaten in my life.
Well, it was the first garden tomato I've eaten this year... but I think it was more than just that!
fri 26 july 2013... happy friday
Yay! Not only is it the start of the weekend, but I've had a tiny bit of good luck which has made me incredibly happy...
But first: the context. My printer died last week. I've ordered another one, but I'm not sure when it will arrive and I desperately need to get just a few more postcards printed for the postcard exchange group that I host. I won't bore you with the gruesome and painful details...
An online print shop with a very robust web site said they print postcards (and banners and posters), but they actually don't print anything except letter size. of course, I had to jump through several flaming hoops to find that out. yeah, the burns hurt a bit.
So then I tried to print my postcards at the day job. Unfortunately, the printer there went into conniptions. Fortunately, I did not permanently damage the printer when I kicked it.
At this point, despair has set in. I might actually have to go out and talk to actual people in a real life copy shop to get my postcards printed. You probably don't know this about me, but I am phobic about talking to strangers. So, anxiety is high.
And then, last night, as I was going to bed, I turned on the old broken printer. Every time I turn it on, it wastes ink going through it's cleaning phases, but what the heck, right?
And the printer turned on like normal. huh? no flashing yellow light? So I plugged it into the computer. still no flashing yellow light. well, it won't print anything... I keyed up my postcard file. And it printed a page! And then another page!
HA! I printed all the postcards I needed! And then I printed a Swap-Bot letter that's due on saturday! And then I was tired and I turned it off and went to sleep!
It will probably never print again, but I got the stuff I needed... so that printer is definitely going to heaven when it dies!
Tag: july
sun 21 july 2013... garden pics
I may be pining a bit about the dead printer. But at least I still have my camera and my computer and my web site... I am still able to share my art!
There are a couple people with artichoke plants at the community garden. These are Huge plants. The flowers are lovely! But when you think about the tiny little bit of artichoke heart that you buy at the store... I have to wonder if it's worth it! ha.
Someone at the front of the community garden has several roses. Technically, woody plants are not allowed... but these make such a happy entrance into the garden. Plus they give me hope that I will never be kicked out because of my mere weeds! :)
And our garden plot: Yay Zucchini!
On saturday, we picked two big zucs and the first three (small) cucumbers... A total of 4.5 pounds. We ate the first cucumber as soon as we got home! And every meal involves zucchini!
Garden Love!
And, to add to my happiness, I got a new magazine in the mail...
I discovered this mag when my Territorial Seed order of No Mow Wildflowers came: there was an extra flyer/ad thrown in. GreenPrints is a garden magazine of stories and art. oh my gosh, why am I not already signed up?!
fri 19 july 2013... a sad sad day for the printer
Yep. It looks like the poor printer has died.
That's the offending part. I tried the last trick in my bag this evening: yanked it out and cleaned and jiggled everything.
Didn't help at all.
heh.
oh well. The printer had a long and productive life.
And the replacement will soon be on it's way.
no biggie. I just need to figure out what to do with my print jobs in the mean time. Kinkos? A real print shop?
So many choices. And then, what if I like it so much I don't want to print my own stuff any more?!
ha.
Tag: july
sun 14 july 2013... Piggy Pics
A decent photo of the guinea pigs together?
Might be impossible.
Ethel and Lucy with yummy carrots.
Lucy and Ethel with yummy timothy hay.
The decent photo of guinea pigs together will probably involve food of some kind...
Tag: july
sat 13 july 2013... Flying Bugs!
I love bugs of all kinds. But these are special to me...
I see lady bugs walking on the garden plants every time I go! I'm so happy to see them. Today there were several walking on the sunflower leaves.
I love this picture. Look at her cute little antenna! I don't ever get tired of watching the bees buzz around the borage, which grows "wild" in our garden plot.
Dragonflies everywhere!
Tag: july
Sat, 13 Jul 2013 09:20:51 PDT
Weekly Mail Check-in
This Week: 10 mailings
Reply Mail: 0 postcards
Notecard Projects: 1 notecard
Yay, done with the May mail!
sat 6 july 2013... Happy Garden
I rode my bike to the community garden today, and look at what greeted me at our plot:
A happy surprise, the Coreopsis has just begun blooming! Yay Flowers!
Just a few snap peas... left over from last time and they are trying to become "real" peas. They are still wonderful and sweet, tho.
The first zucchinis are about the size that you can buy at the store; you know, the tiny ones. I'm going to let ours grow a bit more. I can't wait for a meal of steamed zucchini!
And tomatoes on the way...
And with my almost religious weeding, the garden plot almost looks like real gardeners are taking care of it!
Well. Not really. But it's the best it's ever been. The grass in the pathways is mostly under control. And the weedy area is just Berseem Clover (our winter cover crop) and a few Borage... both are good and happy gardening plants!
I'm thinking about buying some flower cover for the edges of the plot. Doesn't Mow No More, Flower mix sound wonderful?! :)
Sat, 06 Jul 2013 10:35:52 PDT
Weekly Mail Check-in
This Week: 13 mailings
Reply Mail: 0 postcards
Notecard Projects: 1 notecard
I am just two mailings shy of finishing my "May" postcards. Ha.
fri 5 july 2013... paper journal
I've decided that my project for the month of july is my paper journal. I am going to write in it every day, and I'm going to make an art effort as well...
To the art end, I bought a couple books.
ha! I am going to doodle little animals and trees all over my journal pages.
Well. I'd like to, at least.
I'm also taking the time to bind up the last few months of my paper journals. I have been writing and using loose leaf paper for my journal. Sometimes I write on coloured paper. Sometimes I type stuff and print it. It's nice and easy to add photos that way, and I can print up my blog posts as well.
But I'm not very good about setting aside time to bind the papers. So now I'm taking the time.
I'm using the Bind-It-All to make a double spiral binding. And I'm going to bind two months of journalling into one book, so I can use a bigger size o-wire.
I'd like to print up a cover for my books... kind of a scrapbook page that's an over-view of the two months included. Unfortunately, my scrapbooking skills are non-existent.
That's okay! It's my journal and it's all about me. including my ugly scrapbooking attempts! ;)
sun 30 june 2013... weekend odds & ends
My printer is on the fritz. For normal people, this is not a big deal. For me... it's kind of like my soul is dying.
I print all my postcards on my printer. A slow month is 60 postcards. A good month is over 100. All those postcards are printed on that over-used, under-appreciated Canon i9900.
And in the past week or so, it has reluctantly printed a couple of pages. And I'm worried that it is about to die in a permanent way.
A new print head is $160 and comes only from China and I'm not sure that is the actual problem. A new printer of the same kind is $1050. not exactly in the budget.
But it might be necessary for my soul.
---
As of tonight, Google Reader is deleted forever. Damn them.
The new Digg Reader came out on thursday. I used it for a few days, discovered it was not updating some of my feeds, and went looking for something more established. *sighs*
I think I've settled on The Old Reader. It's still clean, but much prettier. It's free, but if my feeds stay updated, I will be sending them a yearly donation. I am thrilled that I found something that works for me!
---
Last november, we seeded the entire community garden plot with a cover crop... Berseem Clover. Since the plot is too large for us to handle, we've let the clover take over in a section.
I think it is beautiful. Plus, it is a good nitrogen fixer, so it's good for future plants!
We harvested 1.8 pounds of sweet snap peas on saturday! Yay!
The first zucchinis are growing... And the cucumbers and tomatoes are blooming like crazy.
And the first sunflowers in the community garden... a portrait with the waning moon. :)
I can't wait for my own sunflowers!
Oh! I also found a volunteer tomato plant next to all the snap peas. Last year, in that area, we had the hybrid Sweet 100 Cherry Tomatoes, Cascade Tomatoes and Oregon Spring Tomatoes... I don't remember the difference between the second two toms, the sweet 100 were smaller.
I am happy about the volunteer tom plant. I doubt it will give us any tomatoes. But I am wonderfully curious about it!
sat 29 june 2013... yay vegan
A happy surprise at the day job. Ron, one of our sales reps, stopped by this week and he was chatting with us in the lunch room about his new diet.
His wife got type 2 diabetes a couple years ago... but apparently something scary happened recently. And now they are both very gung-ho about a plant-based diet!
He highly recommended the documentary Forks Over Knives. And told us how type 2 diabetes can be reversed, just by diet: no meat and nothing over 25% fat.
He is fully supporting his wife in the new eating plan and he hopes to lose a bit of his gut.
And, yeah, he totally noticed that I'm grinning thru his whole spiel...
You have to understand: Ron gives me hope for humanity!
Ron has been a distant acquaintance since I started my current job in Oct 2008. He is beyond retirement age, overweight, and has teased me about being vegan. In a friendly manner: he is a salesman, after all!
All these things, and now he is excited about his new plant-based diet. Do you know how wonderful this is?!
Granted, he's not vegan. And as soon as his wife is healthier, they will go back to their non-plant-based ways.
But still. It's such a great step in the correct direction.
And! Based on what Ron said, another co-worker, my friend S, thinks she would like to try a plant-based diet for a month. She doesn't need to lose weight, but her live-in diabetic sister does. Plus, the three kids could be healthier too.
I remembered seeing a vegan program online that sent daily email tips and stuff...
∞ 21 Day Vegan Kickstart by Physicians Committee for Responsible Medicine
I'm thinking about signing up myself, just to see what it's like.
Hope to watch Forks over Knives, soon, too!
Sat, 29 Jun 2013 08:55:49 PDT
Weekly Mail Check-in
This Week: 25 mailings
Reply Mail: 0 postcards
Notecard Projects: 0 notecards
sun 23 june 2013... animal thoughts
I am still trying, with not much success, to capture the cuteness of the black-faced guinea pigs.
Here's Lucy. She's mostly black... and look at her cute little left hand: black hand, white fingers!
And here's Ethel, drinking water. She's mostly white, and she's the more easy-going of the pair.
I went for a walk on the bike path this week, and saw my first dragonflies of the season.
And I'm pretty sure the mournful squawking I heard this morning was the baby crow that I've been waiting for! Maybe he or she was mournful because it's the first time being left alone? It didn't last long, maybe 15 minutes, and then there was a different crow speech: Here I am, you don't have to be sad!
Tag: june
sat 22 june 2013... first garden bounty
Yay sweet snap peas! The pea plants are very happy, and we got our first serious load of snap peas today!
The rest of the garden is still in growing mode.
And I am still in weed killing mode:
∞ The planted areas, I quickly weed with a stirrup hoe.
∞ The grassy areas, we are slowly digging up with the fork: the grass dies and then I add that to my stirrup hoe area.
∞ And then I just stare with displeasure at this cover crop area where the garlic USED to be. *sighs* The garlic has died and the cover crop is Berseem clover... I should take a pic, it's starting to bloom over there! Also a few Borage plants, making the bees happy.
The borage plants are companions to all the "fruit" vegetable plants. Those beautiful star-shaped flowers attract bees like crazy. And bees are necessary if you want tomatoes, cucumbers or zucchini!
As we were leaving the garden today...
singing a beautiful song!
Sat, 22 Jun 2013 09:35:04 PDT
Two Weeks of Mail Check-in
20 postcards
Reply Mail: 1 postcard
Notecard Projects: 1 notecards
sun 16 june 2013... rnd + pics
Today we said a sad farewell to our established strawberry patch. Unfortunately the grass had become more established than the strawberry plants, so the entire thing had to go.
I did save a couple handfuls of plants, tho. The strawberries were so yummy, I could not imagine the garden without them!
The rest of the garden is coming along nicely. Blossoms showing up, here and there. I ate a good handful of sweet snap peas. I should probably not go to the garden, hungry. I can't bring it home if I've already eaten it all!
I am a happy user of the Google Reader... and like the strawberry patch, we will say a sad farewell to Reader on July 1st. Not because of weeds, and not because of... well, actually, I'm not sure why the Reader is going away. Google is just dumb I guess.
Anyway. I have been patiently awaiting the Digg Reader to be built. But, with just two weeks left, and no current updates... I'm getting a little concerned.
sighs.
Yes, I must have a reader. a decent one. that looks good. and functions like the Google Reader.
I have already determined that I don't like Feedly, which is the most popular rss reader after google. And with that, I gave up on the free readers.
FeedBin looks like it will work for me. But, if I have to pay, I'd like to wait and see what the Digg Reader will look like (since it'll probably be pay as well).
ha! I almost forgot the squirrel at work...

ha!
Fri 14 june 2013... new piggie routine
Approximately 6:25am-ish, I am walking down the stairs, and Lucy and Ethel are running to the front of their house to greet me! I pet them both and then go to the kitchen and prepare the good part of their breakfast...
But first, I clean their house. The new bedding is towels, so I just roll it up and shake it out in the trash. easy!
And then the strawberries come out. Lucy loves strawberries! Ethel, just eats them because Lucy is eating them. I fill up their dish with kibble and give them a good pile of hay, and rinse out the water bottle and set it up with fresh vitamin C water.
Before I leave for work, I pick them up, one at a time and sit with the one and the other on the couch. Ethel is impatient with lap time, she squirms and wants to walk around... and meantime Lucy is running back and forth and anxiously chewing on the fence. Other way around: Ethel couldn't care less if she's alone in the house, and Lucy sits quietly in my lap enjoying my attention. Funny girls.
I come home from work and give pats. I eat dinner then clean their house again. Maybe baby carrots or some celery slices.
And they can run around on the floor for a few minutes. They run a couple laps around the coffee table. Next, they make investigations in other parts of the living room. They have yet to get very far, but it won't be long before they are wandering thru the kitchen.
Later in the evening, I've been attempting some teaching time. Lucy and Ethel are very easy to pick up... but I'd like to make it even easier by teaching them to climb up on my hand!
A couple carrots guiding the way, and Ethel understands the new trick. Lucy is a bit more wary about being picked up, but she loves carrots too, so it's just a matter of time!
I go to bed at a decent hour, but Significant Other stays up all night and gives out celery or carrots capriciously!
Tag: june
sun 9 june 2013... garden
Many, many baby plants have died in our garden this spring.
Many!
But I think we have turned over a new leaf, because all but one of the plants we replaced last weekend are still alive!
So, the current plant list:
Strawberries
Oregon Sugar Pod Snap Peas
Cilantro
Salad Bush Hybrid Cucumber
Sun Gold Cherry Tomatoes *2
Sweet 100 Cherry Tomatoes
Zucchini
Sweet Potatoes *3
Garlic, mostly dying. Foo.


Asters (will have lots of little purple flowers)
Moonbeam Coreopsis (will have lots of pale yellow flowers)
Columbine (just done blooming)
sunflowers *2
and a few left over nasturtium, just getting re-established
Currently missing (because they have died several times over) are Lemon Cucumber and Basil. Will try again with those next weekend.
---
The guinea pigs are not allowed in the garden!
saturday 8 june 2013... Lucy and Ethel
Yesterday we adopted two guinea pigs from Greenhill Humane Society...
Ethel and Lucy are Abyssinian guinea pigs, and they have cowlicks and swirls in their fur all over their body, including their heads.
They were abandoned... left in their cage on the door step of a local veterinary clinic. So we have no history on them, and they had to guess at their ages: Ethel is about 2 and Lucy is about 1. (Guinea pigs live to be about 5 or 6 years old.)
Lucy and Ethel are super sweet, easy to pick up and are not shy at all! They are quite talkative... I love to hear them talking to each other as they walk around their new house, and even when I pick one up they still talk to each other!
This morning, I came down the stairs and sat next to the gp house to say "Good Morning" and Ethel came running up to greet me. Lucy was a bit slower, but she said Hello as well.
They are wonderful.
I am definitely not a complete person without a furry one in my life. With pets in the house, I am back to being Real!
Tag: june
Sat, 08 Jun 2013 08:11:42 PDT
Weekly Mail Check-in
This Week: 5 mailings
Reply Mail: 2 postcards
Notecard Projects: 0
1 Amnesty International Case
Sat, 01 Jun 2013 09:01:04 PDT
Weekly Mail Check-in
This Week: 28 GR PC mailings
Reply Mail: 0 postcards
Notecard Projects: 0 notecards
Okay, need to get back to those replies, notecards and letters!
sunday 26 may 2013... vacation
I turned 40 this month! Whoa! In celebration, I took a vacation and visited my parents and brother in Colorado. We did a ton of stuff, and yet, in the end it was the most relaxing and delightful holiday I've ever had!
On the Art front: we toured a pewter art sculpture gallery, went to the Loveland historical museum which also had some paintings and mail art, visited an African sculpture park also in Loveland, and did a bronze foundery tour.
On the Walking and Hiking front: a walk on the ELC trail ended with some raptors, a hike in Rocky Mountain National Park to Gem Lake, and a walk about Peaceful Prairie Sanctuary was my absolute favorite.
I have so much to say, and so many pictures, I hardly know where to begin. ha. so please stay tuned, while I get my thoughts organized.
Tag: may
Sat, 25 May 2013 08:08:23 PDT
Three Weeks of Mail, Check-in
15 mailings
Reply Mail: 0 postcards
Notecard Projects: 2 notecards
I've been busy, on vacation, and busy again! And now I'm ready to catch up with some blog posts, and some mail!
sat 4 may 2013... summer
There's a good breeze going today...
The oak tree catkins are floating down
and then the wind sweeps them into drifts like snow.
I love the sound of the leaves in the breeze. There's a word for it: psithurism. Well, it's obsolete, and I don't know how to pronouce it. But still. :)
It's a little bit too sunshiny to go outside today, even with the lovely breeze. So I'm looking out the window, at the trees with their new leaves and their falling flowers. And I'm reading my book...
My book is a page-turner: The Color Purple. I pulled it off the banned books list, and discovered that it's an epistolary book (written as letters).
It's sad and intense and much more subtle than the movie. I will finish it quickly.
Tag: may
Sat, 04 May 2013 08:06:39 PDT
Weekly Mail Check-in
This Week: 25 mailings
Reply Mail: 0 postcards
Notecard Projects: 1 notecard
sat 27 apr 2013... postcard organization
Today has been a day of organization for some of my mailing projects.
Organization is not my strong point, but when you are sending out 70 or 100 bits of mail every month, and getting who-knows how much back... well, a little bit of orderliness is required!
I have a couple of ways of keeping track of my mail...
∞ I scan all mail.
Everyone gets their own directory on the computer. In theory, I also scan the text side of my out-going postcards, which goes into everyone's directory as well...
I am no longer able to send mail to everyone in my address book every month; So, scanning my out-going mail helps to know who got what.
∞ Every bit of daily mail gets listed in a table...
I look at and add to this file almost every day. Sometimes, seeing this file, I realize I am crazy. Fortunately, I am crazy in the good/happy way that makes people smile.
∞ For the postcard exchange that I run, I keep a simple database.
Each participant gets an entry which includes their address and when they joined. And then each monthly postcard exchange has an entry with the different participants listed.
I spend quite a lot of time hosting this postcard project... it's something near and dear to my heart. But I worry about what I'm going to do if I ever get a membership explosion!
∞ Today, I set up a separate table listing for my LetterMo replies.
Yes, LetterMo was in February. And Yes, I am still working on my replies! As I mentioned: organization is not my strong point. :)
I'm hoping that having a smaller file, that is focused on replies, will call my attention to what needs to be done.
∞ I really like the little "April Daily Mail" reports I've been making here!
So! I'm going to continue with my saturday morning "Weekly Mail Check-in". My hope is that I continue with the mail replies.
Sat, 27 Apr 2013 08:50:39 PDT
April Daily Mail: Week 4
(Total Mail: 81 mailings)
This Week: 18 mailings
Reply Mail: 3 postcards
Notecard Projects: 2 notecards
sat 20 apr 2013... garden
Our first 2013 trip to Saturday Market. We bought some basic starts for the garden: Sweet 100 Cherry Tomato, Diva Cucumber, Lemon Cucumber, Basil and Cilantro.
An excellent beginning... but I want some serious flowers this year. We were walking back, through the back edge of the Market, when this caught my eyes...
Wow, look at that BLUE!
This is a teeny tiny plant, native to the Alps. Stemless Gentian. It will probably die of root rot before the summer gets here. But I'm going to enjoy it immensely while it lives!
Sat, 20 Apr 2013 08:18:33 PDT
April Daily Mail: Week 3
(Total Mail: 63 mailings)
This Week: 21 mailings
Reply Mail: 0 postcards (ACK)
Notecard Projects: 1 of 5 sent
Sun, 14 Apr 2013 17:39:35 PDT
April Daily Mail: Week 2
(Total Mail: 42 mailings)
This Week: 29 mailings
Reply Mail: 5 postcards
I am rift vegan!
(Also known as cheri.)
I live in the Pacific Northwest of the USA, with my Significant Other (SO), and guinea pigs Lucy and Ethel. I am vegan for ethical and environmental reasons, my love for animals and nature is a very important part of my life.
This blog is occasionally about...
∞ Vegan Life
∞ Nature
∞ Photography
∞ Handmade Postcards
∞ Books, Reading & eBooks
∞ Gardening
∞ the Paper Journal
∞ Crochet
∞ Drawing & Art Projects
∞ Randomness :)