sun 20 april 2014... Lab Animal Liberation Week
Okay, nevermind about the long pause in the blogging. Just re-arranging some stuff in the life!
And also I got bored with the mail related blog posts, here. I never meant for this site to be about postcards and letters only, and that's what it has become. Yes, making snail mail is a big part of my life... but I am a well-rounded human with many interests! :) And Static8 should reflect that!
So today I want to type about World Day for Laboratory Animals. The British National Anti-Vivisection Society dedicated a day on 24 April 1979, which is the birthday of a former NAVS president. The day, and now the week, is celebrated by demonstrations and protests by animal activists who want to end the use of animals in research.
As a vegan who cares for two sweet guinea pigs, animal testing is a topic that is important to me. Adopting guinea pigs is part of my animal activism.
(sorry for the terrible pic, but they are both in it! Lucy in front, Ethel wondering what's going on.)
Please take a moment and think about some of the products you use. How about switching your shampoo to one with the leaping bunny logo? Don't give any more money to charities that experiment on animals. Support Physicians Committee for Responsible Medicine instead.
Yay Vegan!
Sat, 22 Mar 2014 17:48:06 PDT


Weekly Mail Check-in
Total Mail: 21
Reply Mail: zero
Amnesty International: zero

I had to take a break from the daily mail this week. But still... not a bad week with 21 postcards sent!
Sat, 15 Mar 2014 18:45:13 PDT


Weekly Mail Check-in
Total Mail: 23
Reply Mail: 3
Amnesty International: zero!
Instead, I worked on an Animal "Urgent Action" case last weekend: Oppose the Sportsmens Bills
Sat, 08 Mar 2014 09:31:57 PDT


Weekly Mail Check-in
Total Mail: 29
Reply Mail: 3
Amnesty International: One case
(Total AI cases this year: 6)
sat 1 mar 2014... Amnesty International
I joined Amnesty International in December 2011 with their Write for Rights campaign, and shortly after that I joined the Urgent Action letter writing campaign. In 2012, I wrote letters for 40 cases. In 2013, I wrote for 37 cases.
My tentative goal for 2014 was to write for an Urgent Action case every weekend. Except, I've not been very dedicated: I've only written for 5 cases so far and this is the 9th weekend of the year!
Well, it doesn't help that I've not been receiving the emails... I'm signed up for a weekly message, where they send one current but random case. Since I've not been getting the emails, I've been going to the site to pick out a case.
And there are just so many to choose from.
I like the fact that I can choose a case that I'm interested in and passionate about. But the whole process takes longer: sifting through all the current cases, then writing longer letters because of my interest, and really hemming and hawing over the words and language I use because I want to get it right. ha!
I print my letters on coloured paper... today it was green. and I always decorate my Urgent Action envelopes. I hope it catches their attention. But I sometimes wonder what they actually think about it. :)
I'm hoping to get 2 cases written this weekend. Today I am writing for a Syria case... a Kurd postal worker was disappeared by the government in March 2012 and has not been heard from since. Unfortunately, the postal system in Syria is so unreliable the case sheet only gives fax numbers. It's sad and ironic that the postman they took is probably dead of torture.
It's hard, being confronted with these life and death situations, and people really are being tortured to death right now and every day. Sickening.
But I can't ignore it, and writing for Amnesty International is my way of dealing with it.
And then I go for a walk.
Nature cleanses my mind and soul.
Fri, 28 Feb 2014 19:18:47 PST


Weekly Mail Check-in
This Week: 26 mailings
Total LetterMo Mail: 150 mailings

Now the replies need to be written!
sun 23 feb 2014... the status of spring
Yes. Spring is on the way...
And today, at the garden plot, I discovered a couple of crocuses were hiding underneath the aster bush that I never got around to cutting down.
Also at the garden, there is a mystery bulb that's just starting to grow... I had discovered it when we dug up the plot last fall, and I replanted it in the front, not knowing what it was or if it would live or not.
It's alive, and I can't wait to see what kind of flower it will make!
Sat, 22 Feb 2014 17:51:53 PST


Weekly Mail Check-in
This Week: 50 mailings
Reply Mail: 1 LetterMo reply!
Total Mail: 124 mailings

Sat, 15 Feb 2014 18:24:56 PST


Weekly Mail Check-in
This Week: 41 mailings
Reply Mail: zero!
Total Mail: 74 mailings

sat 8 feb 2014... Snow! and LetterMo!
The 2nd snow storm of the season brought us 10 inches of snow plus some rain that made the trees all icy. Pretty big branches are coming down, I hope we get to keep our electricity!
I live in an area of very mild winters... we might get a single dusting of snow, but it's supposed to be 50°F and raining. Ten inches of snow and the ice, is crazy. Climate change crazy!
The snow is distracting and scary and beautiful and fun... And I think I got a photo worth making into a postcard. Which brings me to LetterMo.
LetterMo is an annual challenge, to write and send mail every day the post runs during the month of february. It's tons of fun and this is my third year participating.
Last year I sent out 108 postcards and letters. I should be able to beat that easily. And I want to make a real effort to send replies. I always say that, but this time I have a system.
ha. Having "a system" makes me feel organized, at the very least!
Sat, 08 Feb 2014 18:56:42 PST


Weekly Mail Check-in
Total Mail: 33 mailings (including last saturday)
This Week: 31 mailings
Reply Mail: several

I am having fun... and I've barely even started! I have much catching up to do. At the beginning of the year I was two months behind on my personal mailing project... So I hope to mail out Nov, Dec, Jan and Feb postcards to my friends and family. I don't even know how I got that far behind!
sat 25 jan 2014... Clearing
Yep, I continue to be busy with my various postcard projects.
Yep, I am insane. But never mind about that!
I have also been working on my daily Clearing
class. It's so wonderfully easy, it would kind of be a crime to skip a day. The daily lesson is just a couple sentences long, or maybe a paragraph on a serious day... I print it up, think about it and then maybe add some journaling.
The most helpful thing about the class... is that I'm thinking about "clearing" every single day.
When I go to lay something down, even when it's in it's "proper pile", I have second thoughts! Do I actually need to keep this? Maybe I should put this in the recycling bin instead? Or Maybe I could put it on top of my keyboard to remind myself to deal with it quickly?
You can't actually tell yet, but my piles are getting shorter. I am dealing with some small stuff every now and then. And I am happy with my progress: the piles weren't built in a single day, I don't expect to dismantle them quickly either.
But today is a cause for celebration.
My goal for 2014 is to work on a 4x6 inch bit of art about 5 days a week. But, I've been so busy with the postcard stuff, I haven't been able to work on this daily art project.
In my clearing for the past couple of weeks, I've been organizing to get started on the art again. One night, I got a little box to store some of my supplies in, and I put my Nov 2013 art book in it. Then I bought and added some new white pens. Another evening, I cut up some watercolour paper and anticipated working with InkTense pencils on it. Then I cut up some blue paper, thinking to add white writing on it.
And then a big job. I decided I wanted a drawer for my reference photos. I have three sets of Iris drawers that I store paper and stationery in, and 2 of the drawers (out of 18 total) are "junk" drawers. If I cleaned one out, I could use it for my art project.
It took a lot of thinking. aka planning, preparing, THINKING. A big issue I have is trying to figure out where things go. Things need a permanent home once I've moved them off their pile or out of their drawer, so that I can easily find them again. I need to be able to find things because I get upset when I'm looking for something and it's not in it's place.
Today, I cleared out the drawer. Recycled some stuff. Put other stuff in the second junk drawer. Put some stuff on the "I'll deal with it later" pile.
The drawer was empty. And then I put a dent in one of my piles: I put all my reference photos and some magazines and my 20 Ways To Draw A Tree books -- into the empty drawer!
Ha! I feel so organized!
sat 18 jan 2014... begin
Ha! At the beginning of the year I was completely gung ho about typing up some blog posts! I had several topics planned! And then I got distracted.
I decided my usual monthly postcard exchange that I host at GoodReads was looking a bit paltry. So I sent out a mass email to bump up participation.
And then, every spare minute of every day for two weeks was spent on the very lovely results! I messaged new comers, I sent out welcome postcards and then I sent out the January postcards.
I've sent out well over 70 postcards. And while this particular january project is done, I am ready to get going on my other january postcard projects!
Yay Postcards!
fri 3 jan 2014... 2 classes
In the spirit of doing something new and different for the new year, I have signed up for two, year-long classes.
Draw Your Awesome Year by Joanne Sharpe
This is a journaling class which starts out with a bunch of video lessons during January, then adds prompts once a month through the year. I signed up for this one because I enjoy Joanne's classes and I really want to focus on some art stuff this year.
A Year To Clear by Stephanie Bennett Vogt
This is a class about clearing out the clutter in your home, and in your mind through meditation techniques. I am interested in this class because there are some tidying up issues that are starting to cause me some anxiety.
I suppose I should mention that I have taken 1 or 2 month-long classes from each of these wonderful women... and haven't finished any of them.
Ha! As long as I'm having fun, I don't worry about it too much. I am more concerned about the journey, rather than the destination. Which means sometimes stuff doesn't get "completed". And I'm okay with that!
Tag: january
wed 1 jan 2014... Happy New Year
Yay New Year!
In 2013, I read 36 Books! My average book was 320 pages and I read about 221 pages a week.
In 2013, I sent 945 Postcards, Notecards, Letters and Packages! That's an average of 78 mailings a month. My biggest mailing month was august, when I sent 121 bits of mail because I was so happy to get a new printer after the old one died.
In 2013, I took on 37 Urgent Action cases and Write for Rights cases for Amnesty International.
In 2013, I took 6670 Photos! Averaging 555 per month.
In 2013, Rhino the guinea pig died in January. We adopted Lucy and Ethel in June. I took a trip to Colorado for my 40th birthday in May, and a trip to see family in Colorado and Iowa in December. Our community garden plot seemed to be the most organized and productive yet in 2013.
I had taken on a daily drawing challenge in Nov 2013, and I remained enthusiastic about it to the end. I think I might be interested in continuing that challenge throughout 2014. I will start with a goal of 5 small drawings a week, and adjust as needed!
My theme for 2014 is "Take Care". There are some home and self projects that I have procrastinated and need to take care of.
Most important is to continue being the best vegan I can be.
Tag: january
sat 14 dec 2013... weekend
I have no drawings to show you this week, mostly due to this:
which made both my work day and my commute time longer. I did not have as much time in the evenings for play.
That's okay. I am very excited to share a photo from my walk today...
I was walking along the bike path, which runs next to the creek, when I saw a group of ducks paddling towards something like there was a human giving out bread...
Except I was the only human, and they weren't paddling towards me.
I looked.
And then I saw what they were interested in...
Who is that?! He looks like a ferret. And I think he was about that size. He did swim in the creek.
The ducks were very interested in him. And he did not bother them. He is definitely a carnivore, but too small to take on a mallard, especially with the whole flock staring at him!
I think he might be a Mink? How awesome is that!
Tag: december
sat 7 dec 2013... update
Last weekend I was getting a head start on Amnesty International's Write for Rights.
I wrote letters of protest and notecards of solidarity for 7½ of the ten cases! The letter writing campaign goes through to the 17th of December, and I think I'll have time to finish up the rest before then.
I hope you'll join me in writing letters! Amnesty USA provides sample letters that you can just print up and sign, stick it in an envelope and send it on it's way... and you've made a difference in the world!
Write for Rights, Scotland 2012: How Letters Change the World
---
This week, I decided to keep going with my drawing project. I won't be able to continue the "daily" part for much longer, since I get distracted with family stuff at the end of december. But until that moment arrives, I am going to go where the inspiration takes me...
I wanted to give the Peaceful Prairie turkey some colour...
And then I had to search for some pics that interested me. I found a spoonbill and a dolphin:
And then, moving some of my piles around, I rediscovered my Charley Harper book. He is one of my favorite artists. I thought copic markers would lend themselves wonderfully to the flat colours that Harper uses!
Yeah! Oh my gosh! I had so much fun doing these!!
sun 1 dec 2013... drawings
For the last week of my daily drawing project I drew a goat, and then several different turkeys...
Here is a drawing of Daphne, who is on the cover of the fall/winter Farm Sanctuary newsletter:
This is an unnamed turkey, who is on the cover of the nov/dec Audubon magazine:
And this is a drawing I did from one of my own photos I took at Peaceful Prairie Sanctuary, an awesome vegan sanctuary that I ♥love♥: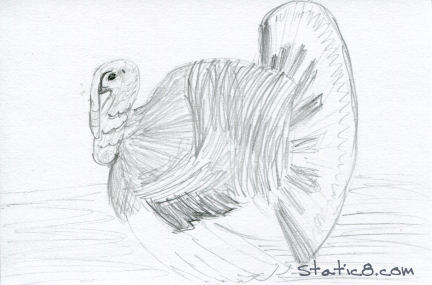 I love turkeys! They are such lovely creatures. Plus they have the most beautiful eyes. I wish I could look into their eyes for a long time. That sounds funny, doesn't it. But trust me... find a really good, close up photo of a turkey's face and you will see their eyes are amazing! (and please don't base your judgement on my crappy drawings!!)
Also, I love birds in general because they are so accessible... and turkeys are the biggest bird I'm going to see in the urban wild. Yep, there's a small group of turkeys who live in a forest park a few miles from my home. They occasionally travel! I've seen them stopping traffic on my street and I've seen them wander thru the front yard.
How cool is that?!
sat 30 nov 2013... 3 Piles of Projects
The pile on the left is the art pile.
My project for november is Art Everyday. The pile includes the magazines I have drawn from, the photos I've printed up, different kinds of paper (that I've not actually used), my 4x6 index cards along with my trusty mechanical pencil and white vinyl eraser.
The pile on the right is the Amnesty International letters.
This is my project for this long weekend. So far I have written letters of protest and notecards of support for 6 of the 10 cases!
The pile includes all the letters, since I decided not to mail them until the Write for Rights campaign "officially" begins on 2 december. Also in the pile are my stamps: the round global forever stamps and the US stamps are the Modern Art forever stamps (I bought a bajillion sheets of these, because I love art, and now I so tired of them!) (ha).
And my little set of Hallmark cards, there in the middle... I usually make my own notecards, but I am glad I decided to use up some of my "bought" stash. When you're writing so many letters in a single weekend, it's good to make things as easy as possible! Making my own: I have to choose a design, print it, cut and fold it, and then dig out an envelope for it. These bought notecards have a design of leaves on a teal background. They are beautiful, gender non-specific, and small so I don't feel like I have to write too much! Easy.
The pile at the top of the pic is my journal binding project.
This year I've been journalling on loose leaf paper... not just writing by hand, but also printing up some digital journal pages. It really works well for me, except I don't take the time to bind up the papers very often.
Which is fine. It's nice to get a little perspective -- aka let months pass -- before looking through journal pages.
thurs 28 nov 2013... Happy Long Weekend
My project for this weekend is to write letters for Amnesty International. I've joined Write for Rights. I have been participating in this campaign since 2011 and this is my third year!
The great thing about Write for Rights is that they provide sample letters. It's so easy to participate! Just print up the sample letter, sign it and put it in an envelope!
In addition to sending letters of protest, you can also send letters of solidarity.
There are 10 cases highlighted this year... and my goal for this long weekend is to write letters for ALL of them!!
sat 23 nov 2013... Squirrel Week!
I printed up one of my photos of a pine squirrel on Monday and spent the rest of the week drawing him! He is just so cute!
Unfortunately, when doing my drawings in copics, I discovered I don't have the right colours. Orange is my least favorite colour, and also I don't have any pale colours... and I need a pale orange for this project!
I tried twice, and then went for something completely different!!
haha!
I was annoyed that I had so much trouble with his fingers. Hands are hard to draw!
I also got to do some experiments with alcohol ink painting. Here's an example of some real art with a cute baby sea turtle: Painting with Copic Various Ink. And another one by Lin Frye, who contributes regularly to the exclusive Sketching in Nature blog.
sat 16 nov 2013... and feathery
A scrub jay, today.
I had taken a few photos of this scrub jay in september, and wished I could have turned one of them into a postcard. Unfortunately, they were all blurry... the day was cloudy and the jay only sat for mere seconds. arg.
But even blurry photos are useful!
I printed up the best of the blurry pics and got out my field guide and attempted a drawing.
And then I took some pics of my work area...
This is my usual set up. The end of my bed is where I do my computing (thus the keyboard and track ball!). I draw on my lap desk, my photo refs in front of me, and all my copic sketch markers.
sat 16 nov 2013... furry animals
I worked in pencil, and pencil + copics, on a few furry animals this week. But my beginner's luck is over and I had to crumple up a lot of ugly index cards! ha. oh well, I kept trying until I could almost recognize the critters I was drawing!
I drew Lucy and Ethel several days in a row... at first attempting some live sketches. Much frustration and crumpling ensued. Then I printed out their photo and drew from that.
I think I might have to practice for years instead of just one month a year.
I need to remind myself that my drawing "goal" is not photo realism. I have a camera for photos!!
My goal here is along the lines of my paper journal... to record the things important to me. To have fun. To remember.
Drawing is a skill that, with practice, can be improved. And I am here to practice!
sun 10 nov 2013... weekend roundup
I think it's decided. Drawing furry animals is difficult!
Good thing I still have 20 days to practice!
I am also playing catch up with my postcard and mailing projects. I love sending mail! My ongoing goal is to send a monthly postcard to the two mailing groups I belong to, and a few friends and family. The mailing list is currently between 60 and 70 postcards.
But then I pick up random Swap-Bot projects that look fun. And then I want to send something special to someone. And then there are a few replies to be made... yeah: there's a pile.
This weekend, I cleared out the Swap-Bot projects. And I wrote a couple replies. And I really organized that pile, so that I can pick up the top project and get going with it quickly and easily!
Also worked on an Amnesty International case.
When I read I Am Malala, I was reminded that my Amnesty International work was important. Having recently finished E.O. Wilson's Biophilia (the fire ant!), I was reminded again...
He writes about the terrible changes that come to Surinam, in South America, after a dictator comes into power in 1980. Wilson was concerned about the human rights violations as well as the environmental destruction. He mentions Amnesty International's Urgent Action cases in the footnotes.
As a member of the Urgent Action Network, I must continue my activism! It is so important!
I've signed up for the USA Write for Rights, which happens in December. But the UK Write for Rights is already under way!
sat 9 nov 2013... catching up
... With my daily drawings...
I love how this one turned out! I drew it directly with copics, from a photo of the coreopsis flowers that I grew in our community garden plot this year. I did the black outline last, with a brush tip multiliner.
This drawing came from the same garden photo, an aster plant was growing behind the coreopsis. I experimented with my set of Inktense pencils. I think this is the first time I've used them in a drawing. Inktense is water activated... so you put your drawing down with the pencils and then you hit them with a water brush. Sounds simple enough, doesn't it? Except I suck pretty bad with paint brushes.
But I tried it out! Only the flower has a very careful wash over it, although I did swipe the background with my water brush as well. If I try it again, I will definitely use some actual watercolour paper... my index card warped quite a bit and I could tell the colours were going to blob all over the place if I got carried away with the water. And it might be nice to get carried away with the water, you know?! :)
I had just finished reading Biophilia by E.O. Wilson and decided to draw a fire ant in his honor. ha. I grew up with fire ants when I lived in Louisiana... I ran around outside with bare feet, as all good children should, and stepped in my fair share of fire ant hills!
I wanted to draw a rat today, in honour of the Mutts comic of friday:
"Rats need love too"!
Yes! I searched for an ancient pic of my friend Freefall, who I cared for when I was a teenager. It's a tiny pic, but it's the only one I have and I wanted to draw her and not some stranger I found on the internet!
But my drawing did not come out well. I tried again. and again. I erased a lot. And then I tried drawing with copics. And then I just traced my photo. And even that looked not-normal! humph.
So, I'm going to show you my photo, instead of my pitiful drawings!
Isn't she precious?! If the opportunity presented itself, I would jump at the chance to adopt another rat!
fri 8 nov 2013... update


So I meant to post some of my daily drawings during the week. But random projects got in the way. And sometimes craziness got in the way. And now I have to play catch up.
This is Shirley who lives at The Elephant Sanctuary, a cool place that's important to me.
Shirley turned 65 this year, and I drew her from the cover of the Summer newsletter. Her leg juts out like that because it was broken and never set. She came to the sanctuary in 1999 and she is living happily ever after.
Be sure to check out the EleCam!
More catching up tomorrow...
sat 2 nov 2013... sketches
Today I did some sketching from life...
Unfortunately, the life was moving around too much. So I'm not very happy with my drawings. I should catch them while they are sleeping!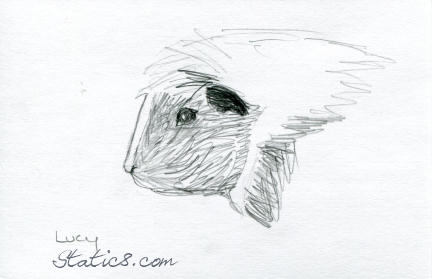 But I am happy with the fact that it's november 2nd and I already have four drawings done!
fri 1 nov 2013... start the art
My goal for November is to make art every day!
It doesn't have to be good art. And if I don't want to show it, I don't have to!
But I am going to work on a 4x6 index card or paper every day this month.
I actually did a test run on tuesday...
I drew this picture from a Dover book in pencil. Inked it with a brush tip Multiliner SP, erased the pencil then coloured the background with copic wides and sketch markers. I am happy with my fish and it took about half an hour.
Today is the first official day of the Art Month:
This is the back side of a California Poppy, inspired by a photo in the Fall edition of National Parks magazine.
No pencil work on this one, I drew straight up with my copics. This drawing was less about the actual drawing and more about the blending of the colours. I feel like I need some practice!
And practice is exactly the point of this month of art!!
sat 26 oct 2013... Amnesty International
Another important project that I've abandoned but want to get back to is Amnesty International's Urgent Action Network.
I've been an active member of the UAN since December 2011. I had written a few letters for their annual Write for Rights campaign that December and got hooked.
I had been taking on one case -- sending three or four letters of protest -- almost every weekend. In 2012, I wrote letters for 40 cases. And this year I wanted to do more!
I started out very strong, in January and February I would sometimes write two cases in a weekend! After that, my letter writing kind of fizzled, only writing once or twice in a month.
The last case I wrote for was Urgent Action #205-2013. I sent four letters to Cuba at the end of August. Nothing since then.
This week, I read I Am Malala: The Girl Who Stood Up for Education and Was Shot by the Taliban.
And I am sadly reminded of all the violence in the world. Writing for Amnesty International was my form of peace activism. Why have I stopped? Why in the world have I quit?
So far this year, I've worked on 24 UAN cases... I am not sure I'll be able to match the 40 cases I completed in 2012. But I'm going to try!
fri 25 oct 2013... plans
I've been a terrible blogger! I kept thinking I would type about something brilliantly spectacular and then I could come back to the Internet with style. haha: Problem is, every time something spectacularly brilliant actually does happen, I procrastinate writing about it. I think the writing needs to be perfect. And then it starts sounding like a lot of work. And who wants their hobby to be work??
So, I'm just going to type about day-to-day stuff. Maybe eventually I'll get to the brilliant and spectacular stuff. But right now, I'm just going to update.
November is National Novel Writing Month. I don't have a novel in me, but in that spirit, I'm doing Art Every Day Month.
My plan is to draw or colour a 4x6 index card every day. But I need to do some prep: gather some magazines with some good animal photos I can draw, print up some of my own pictures to draw, and make a list of stuff I can do when I am not feeling inspired, or when I don't have a lot of time!
And before november rolls around, I have some other projects that I need to get back to. Will be typing about them soon...
sat 28 sept 2013... Banned Books Week!
I spent a couple hours this morning writing about banned books on a ton of postcards for my GoodReads group! Yay, I love it when I can combine my favorite things to do!!
Postcards, writing, reading and talking about books... not to mention the photography I'm sharing on the front of the postcards.

Today is the last day of Banned Books Week and I'm celebrating by talking about the challenged books I've read.
From the Challenged Classics list:
5. The Color Purple, by Alice Walker
7. Beloved, by Toni Morrison
9. 1984, by George Orwell
16. Brave New World, by Aldous Huxley
17. Animal Farm, by George Orwell
33. The Call of the Wild, by Jack London
40. The Lord of the Rings, by J.R.R. Tolkien
45. The Jungle, by Upton Sinclair
57. Sophie's Choice, by William Styron
And from the 2000-2009 list:
4. And Tango Makes Three, by Justin Richardson/Peter Parnell
8. His Dark Materials (series), by Philip Pullman
17. The Color Purple, by Alice Walker
23. The Giver, by Lois Lowry
26. Beloved, by Toni Morrison
36. Brave New World, by Aldous Huxley
69. Fahrenheit 451, by Ray Bradbury
74. The Lovely Bones, by Alice Sebold
80. A Day No Pigs Would Die, by Robert Newton Peck
88. The Handmaid's Tale, by Margaret Atwood
90. A Wrinkle in Time, by Madeline L'Engle
And Currently reading:
10. The Perks of Being a Wallflower, by Stephen Chbosky.
And will soon read:
28. Bridge To Terabithia, by Katherine Paterson
I really enjoyed this article in our local paper, the other day: Dangerous Books can lead to enlightenment. Haha, the comments made me laugh even tho the people seem to be completely serious!! I wonder if they actually read the article!
Banned Books Week is important to me because I love to expand my mind by reading books I wouldn't ordinarily pick. The books on the Challenged Books lists are so diverse and wonderful! And even when I read one that I don't like... I still love the fact that I am able to read that book!
I am rift vegan!
(Also known as cheri.)
I live in the Pacific Northwest of the USA, with my Significant Other (SO), and guinea pigs Lucy and Ethel. I am vegan for ethical and environmental reasons, my love for animals and nature is a very important part of my life.
This blog is occasionally about...
∞ Vegan Life
∞ Nature
∞ Photography
∞ Handmade Postcards
∞ Books, Reading & eBooks
∞ Gardening
∞ the Paper Journal
∞ Crochet
∞ Drawing & Art Projects
∞ Randomness :)